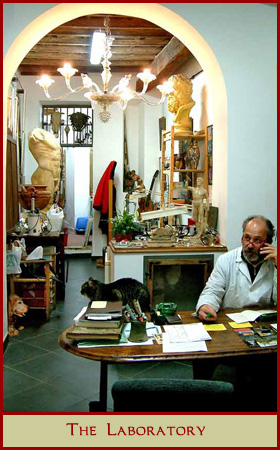 Daniela Sturni's Restoration Studio is situated in the centre of Rome in Via dell'Orso between Via della Scrofa and Piazza Navona within the historical Ponte Borough. It is also the Head Office of the Associazione Artigiani di Via dell'Orso e vie adiacenti (The Craftsmen association of Via dell'Orso and adjacent streets) which is the oldest Craftsmen Association in Rome.
The Restoration Studio other than restoring ceramics , porcellain and sculptures in any material, is specialised in scientific restoration and archeological restoration of artworks of high historical and artistic quality, in cooperation with qualified restorers of great experience such as Tullio Diamanti, fellow of the ICR (Istituto Centrale del Restauro – Restoration Central Institute).
The Restoration Studio also produces marble and chalk sculptures, antique reproductions in whichever material, from semiprecious stones to any type of metal.
The Restoration Studio also offers cleaning and polishing of glass and crystal shop windows damaged or scratched so as to avoid the substitution of the whole glass or crystal panels.
In addition the Restoration Studio restores glass or crystal chandeliers by means of cleaning, washing and, where needed, the substitution of damaged parts of the structure and/or of the glasses, having a vast assortment of old and new elements. If necessary the Studio can also reproduce missing elements.