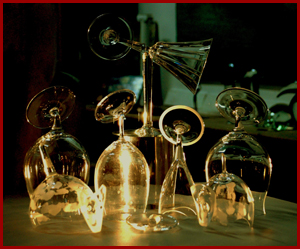 The grinding of glasses and crystals consists in scraping and polishing parts of objects which, for whatever reason mainly scratching or chipping, may have been damaged.
The vast majority of work on objects that are to be de-chipped or grinded is done on glass, chalices or big ornamental or flower vases, of all origins from craftswork products to industrial or even produced by classical workshops such Baccarat, Saint Louis, Boemia, Rosenthal, Murano etc.
The chipped edge is cut or ground with special machinery and then rounded and polished to the original state. Once finished it is very hard to distinguish the de-chipped glass from another of the same set. A small difference in height may be the only clue and will depend on the depth of the damage.
In damages to glass or crystal sculptures the de-chipping and the restoration are executed with the same procedure as above except some specific instances where purpose made drills are used to accomplish the desired result.